CITA International Research and Development Center
Our Research and Development department can assist you in developing any natural/chemical product you may have imagined. If the formulation becomes a product that falls within CITA's capability, we can help you in manufacturing and packaging. If the nature of the product is beyond our capability, we can provide you with the formula, manufacturing procedures, specifications, samples and all the related studies to enable you to have it produced somewhere else.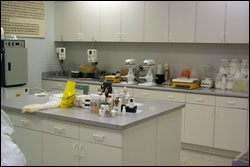 Notes: a) If requested, we will sign a secrecy and/or confidentiality agreement with you.
b) CITA may not be able to develop, manufacture or package certain types of products due to legal, environmental and production-capacity limitations. (e.g.insecticides, nail polishes and solvent-based products, etc.)
Contact us for more information concerning development costs, ingredients, formulation possibilities, stability and efficacy studies, packaging options, cost per unit, lead-times, etc.
For questions or comments contact us at (602) 366-0149 Fax (623) 847-4454