Private Label and Contract Manufacturer of Spa Products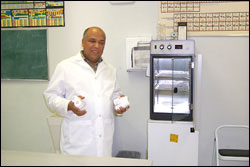 Spa & Massage Products Private Label Contract Manufacturer
For our Spa customers, we can tailor your products in terms of formulation, function, form, color, scent and packaging. We have, over the years, developed and manufactured many products to satisfy all our customer requirements.
We use the highest quality, most effective ingredients in all the products we manufacture. Following is a partial list of ingredients:
Seaweed Extract, Kelp, Alpha-Bisabolol, Chamomile Oil, Comfrey Root Extract, Natural Vitamin E Oil, Vitamin A Palmitate, Dexapanthenol, Olive Oil, Apricot Oil, Aloe Vera Oil, Aloe Vera Gel, Boswellia Extract, Evening Primrose Oil, Borage Oil, Black Currant Oil, Grape Seed Extract, Essential Oils, Jojoba Oil, White Willow Extract, Rosehip Oil, Live Yeast Cell Extract, Variety of Herbal Extract formulations for a specific function, Sea Salts, Purified Sea Water, Natural Sterilized Clays, Vitamin K Oil, Cinnamon Oil, Vitamin B Acid, Amino Acid, Citrus Fruit Acid and Extract, Mineral and Micro-nutrients, Collagen and Elastin Hydrolyzates, Tea Tree Oil, Menthol, Thymol, Camphor, Botanical Waxes, Oat Meal Extract, Egg Albumen, Vitamin C, Kojic Acid, Licorice Extract, Eucalyptus Oil, Wintergreen Oil, Salicylic Acid, Bearberry Extract, Rhatany Extract, Zinc Oxide, Ground Walnut Shell and Diatomaceous Earth.